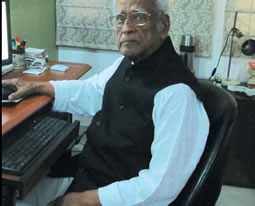 Recently an interview with our Chairman, Sri Suresh Chandra Agrawal, was published in Indian Business Online magazine in the January Issue. You can find the article here. 

"Customer Is Always Right"
SURESH CHANDRA AGRAWAL, Chairman, Cranex

Circa 1933, a young, 14-year-old boy starts a business of supplying sugar bags to a store in Shantiniketan from his native town, Muzaffarpur in Bihar. The turnover of his first business is a princely sum of Rs 5. Five years later, the same boy, now a 19-year-old, young man, supplies butter from his town to a restaurant near the Banaras Hindu University (BHU). He has also earned enough to meet his educational expenses at the BHU in Varanasi for two years. That young man, Suresh Chandra Agrawal, is now the 97-year-old chairman of Cranex, one of the country's leading manufacturers of cranes. The New Delhi-headquartered company is listed on the Bombay Stock Exchange. Mr Agrawal has no qualms about the fact that he loves to create wealth. It is a different matter that he can create it for others with same zeal and fervour. Despite his wealth, the Cranex chief has always lived a fairly simple life. Branded stuff, imported goods and high-end cars do not mean anything to him. The grand, old, nonagenarian's mind has always been ticking as he floats enterprises, makes money and juggles with figures. In an engaging conversation with Sharmila Chand, Mr Agrawal talks about his management thoughts and principles that have brought him success.
Tough lessons in life
Within 14 years, from 1957 to 1971, God gave me a lot. Starting from a tiny rented apartment in Kolkata and backed by love from my wife and five children, I could own two factories, two apartments in the city's best locality, a farm and a flourishing business with nearly 100 employees. With success came arrogance and its consequences, the downfall. Within the next two years, without dabbling in any speculative activity, but by overtrading, I lost all everything. After clearing all my dues and debts by sale of assets, I shifted to Mumbai in a one-room, paying-guest accommodation to start life afresh at the age of 52. Poet Raheem's following couplet aptly sums up the essence of life: Rahiman nij sampatti bina koi na bipati sahaya; Bin pani ke jalaj ko nahi ravi sake bachaye (Sun helps the lotus to bloom, give fragrance, colour and life only as long it has the wealth of water around it. When the lotus comes out of water and has lost water, its wealth, the same sun burns it off.)

Your philosophy

It is important to be a winner, steering clear of trials and tribulations. If you enjoy taking challenges, you will definitely be a winner. Though I was born in a very rich and aristocratic family, I was obsessed with the idea of creating wealth from zero capital on the basis of credibility and ethical principles, to create new opportunities, generate employment and empower others to be creative. Internet not an alien A man who has worked all his life on the typewriter, I coolly switched to computer at the age of 94. I enjoy Google thoroughly. We did not have the ocean of information at the click of a button in our times. We had to book trunk calls for important communication. Now, I enjoy emailing and updating myself with a plethora of information.
You would like to be remembered as:
…Someone who enjoyed facing many challenges and emerged a winner; someone who loved floating new business enterprises and someone who loved being a mentor
Your five management mantras
Be detached from your work and then think
Whenever you need to take a decision related to your business, you must think with a detached mind. Think out of the rut, out of the everyday work routine. Think independently and then only new avenues will come. If you remain attached to your idea or thought process, you will impose it on others in the company. You will not see the other side, and your mind will be biased towards your idea. As the Gita says:
Asakti anabhiswangah putra dara grihadishu; Nityam cha sama chitwam ishtha nishtha papitushu (In spite of being intrinsically connected, life and business are two separate identities. Life is continuous, while business is a wave, with its inherent ups and downs.)

Be smart in managing your finances
Financial management is the key to success of any enterprise. You must learn to handle your finances smartly. If you initiate any new venture, which requires funds, never invest your own business money. It is foolish to make profits and then squander them by using the money to expand into less lucrative areas. Analyse your business, your assets and find a solution to raise funds. Your planning should be such that your financial liquidity increases and not decreases in any deal you sign or undertake a new project. What is the fun of moving around in high-end cars if you are plunged in debts? Don't overtrade. Hitler once said: "It is an art to know when to take an advantage. It is a greater art to know when to lose an advantage." Don't leave the accounts to your accountants. Be involved and see whether the accounts reflect what you have in your mind. Your organisation will grow only if you pay taxes with due planning permissible
by law. This will ensure growth and peace and, above all, give you self-respect. Remember that financial liquidity is very important. Do not fall in the well.

Be progressive and innovative
Do not linger on your past knowledge or performance. Change with the times, and update yourself with fresh knowledge, technology and ideas. Bring in a whiff of fresh air in your enterprise with your fresh ideas. Keep them flowing without disturbing your roots. Your roots comprise your philosophy, your sanskriti, your values and they remain your guiding principle.

Know your team and employees
Keep your team happy, and try to fulfil their reasonable wishes. After all, work has to be done by them. Have the ability to create harmony in conflict. In music, the seven basic notes are all different. Once put in the correct sequence, they create soul-touching music. If not harmonised, each note is discordant and in conflict with each other, creating noise. In management, you have to deal with different kinds of people. They are all different, like the notes in the music system. Management is the art of creating harmony among people you deal with for success. Encourage them, keep them enthusiastic and satisfied. At the same time, don't let them exploit you. That situation will arise if you become  dependent on them. So don't be dependent on anybody, but create happy atmosphere at work. Remember to be just but not liberal. Be just but not generous.
Customer is always right
Never argue with your customer. Do not make him angry. Have transparent dealings with him. Remember that all communication with the customers should be in writing.
Secrets of your success
Create new and innovative enterprises
Take challenges head on
Create a profit-making enterprise
from zero or scratch
Be a guide or mentor to people who
seek your advice
Correlate mythology with management and business