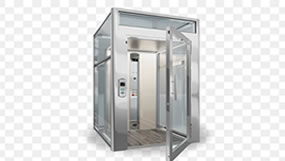 Cranex assures you of a quality product from one of the leading OEM  Manufacturers, which has supplied its products in Australia, Bahrain,  Bangladesh, Brazil, China, Malaysia, Philippine, Singapore, South Africa, Sri  Lanka, Taiwan, and UAE.
 We are responsible for the coordination with the clients, installation,  maintenance, repair and other services.
 Our range of Elevators includes products for all needs - for Commercial  projects, Residential projects and Infrastructure projects.
 We can provide Machine Room Elevators, Machine Room Less Elevators, Panoramic Elevators, Freight Elevators, Car Elevators, and Hospital Elevators.
Our range of products are specially suited for rugged Indian climatic conditions, and are well tested according to International standards